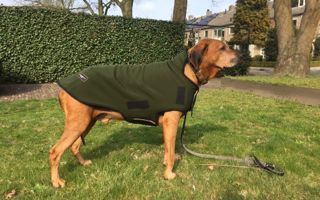 From The Netherlands, this is Eazy in his new Powershield Winter Coat. Due to Fran, her advice, the coat fits him perfectly, the fabric is warm, soft and flexible.
Cathinka Verschoore, Netherlands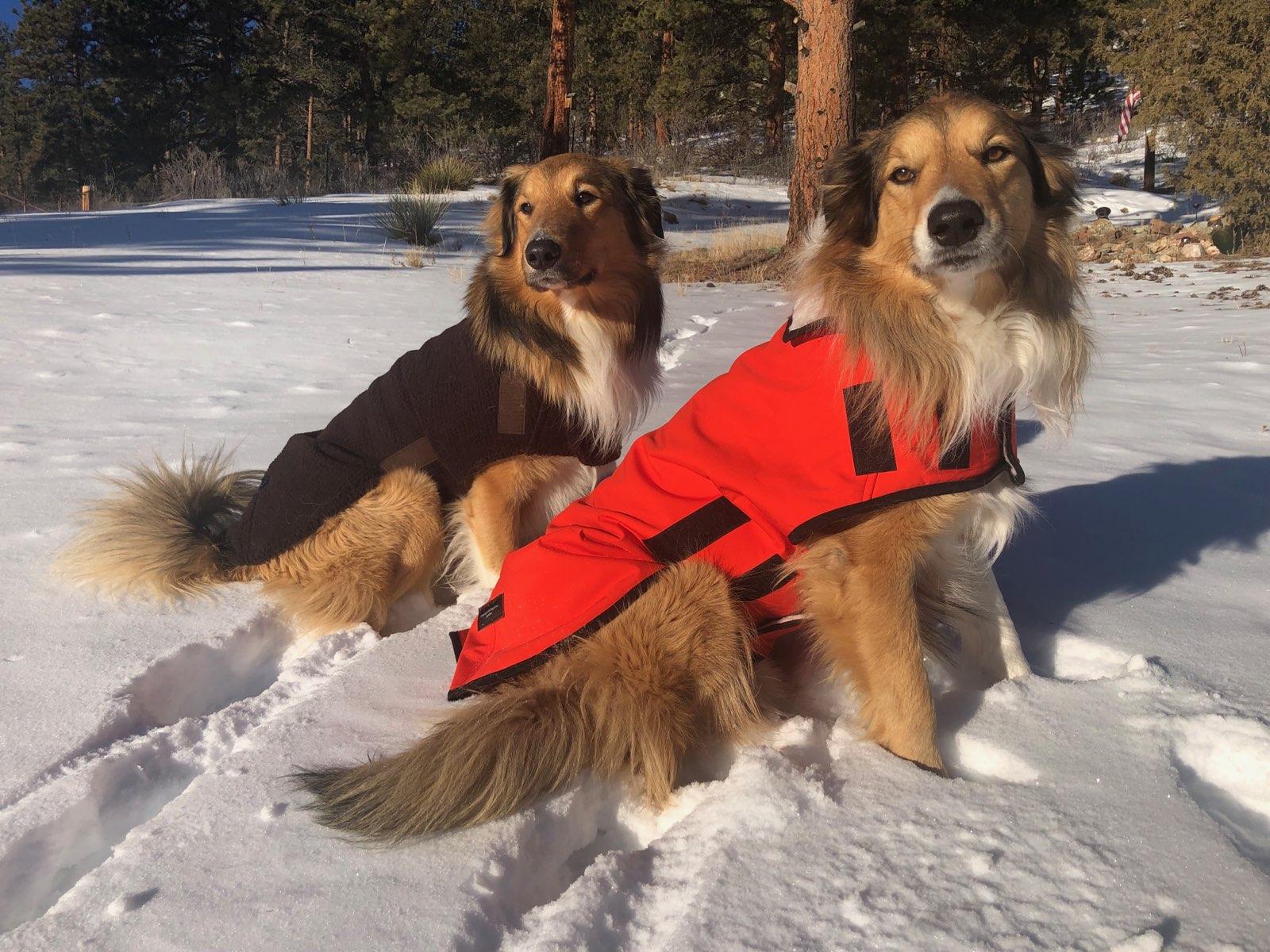 Front Range Rescue Dogs, Finn and Brodie
January 2019
My dog has been loving her new coat. She is 11 now and so it is great for the cold mornings and days! The quality is so nice and durable.
McKenzie, Denver, CO
She loves it. Thank you! You may be getting some orders from friends of ours.
Wally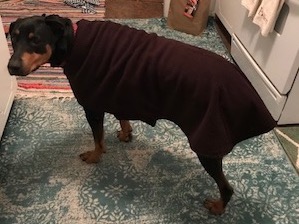 Thank you so much! The coat fits great!
Lauren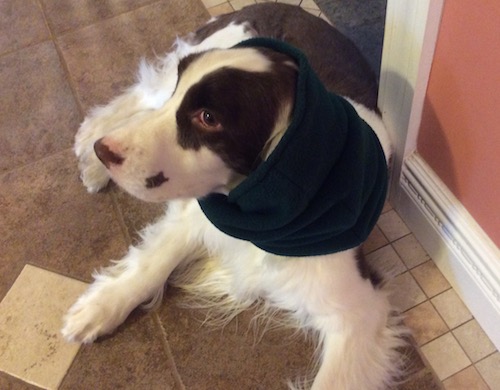 Thanks Fran. It was so nice talking to you and you were very helpful in choosing the snood. It's a beautiful color and feels nice and warm. It's a little too big for my puppy Sophie but fits Leo my 5 yr old. Have a great winter in Boulder, one of my favorite towns!
Patty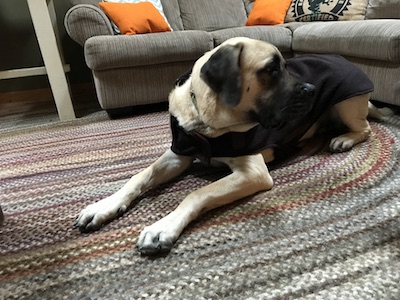 I received it
today
... his name is Moose and he loves it! My other dog is jealous, so you might be hearing from me soon. 😉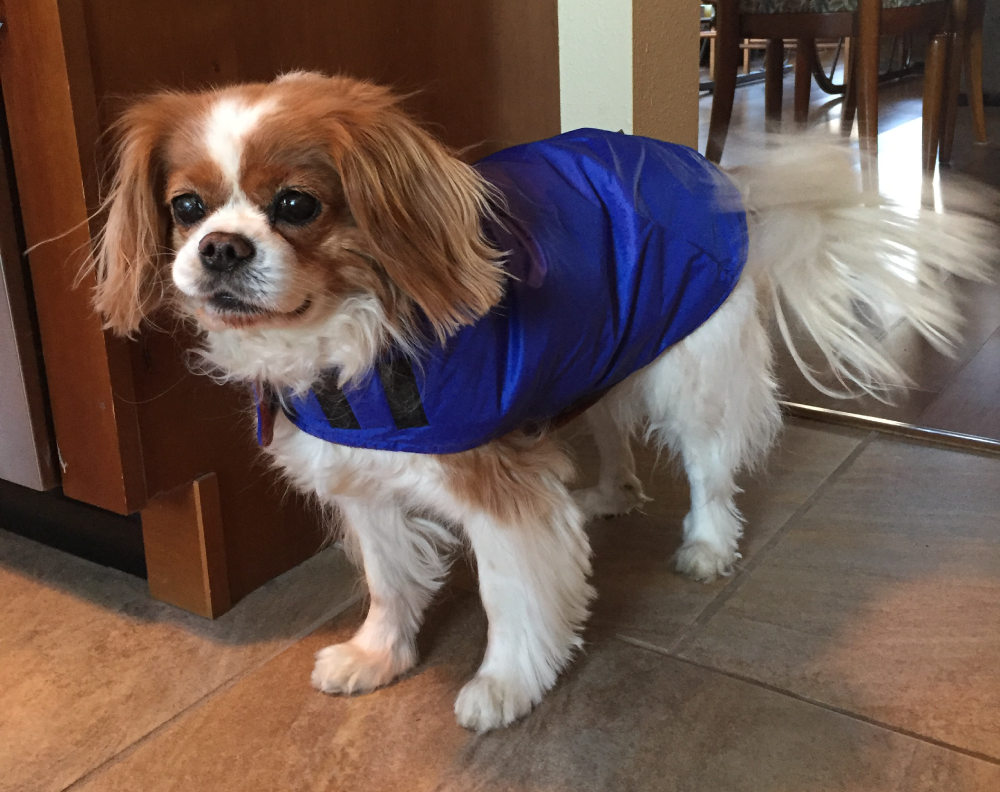 My dog Roxy has a dog coat from MountainMuttDogCoats. The coat is attractive, easy to get on, fits nicely and covers her well. If you are looking for a new dog coat, you can't beat the high quality fabric and durable design!
Lisa Shultz, Breckenridge, CO
Jack's First Snow
, rescued from a commercial yard as a budding guard dog he was only a yr old when he came to us... he loves his Boulder Sweater and doesn't like
it when I take it off. He also has a Windpro, and Powershield Raincoat to keep him warm and dry. Will need at least 1 more sweater I think.
Today Maximo
is really enjoying his MountainMuttDogCoat! It has held up so well and still looks brand new. So warm! So comfy!
Laura B., Boulder, Co.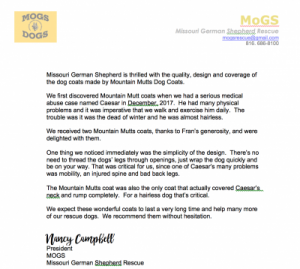 Missouri German Shepherd is thrilled with the quality, design and coverage of the dog coats made by Mountain Mutts Dog Coats. We first discovered Mountain Mutt coats when we had a serious medical abuse case named Caesar in December, 2017. He had many physical problems and it was imperative that we walk and exercise him daily. The trouble was it was the dead of winter and he was almost hairless. We received two Mountain Mutts coats, thanks to Fran's generosity, and were delighted with them. One thing we noticed immediately was the simplicity of the design. There's no need to thread the dogs' legs through openings, just wrap the dog quickly and be on your way. That was critical for us, since one of Caesar's many problems was mobility, an injured spine and bad back legs. The Mountain Mutts coat was also the only coat that actually covered Caesar's neck and rump completely. For a hairless dog that's critical. We expect these wonderful coats to last a very long time and help many more of our rescue dogs. We recommend them without hesitation.
Nancy Campbell, President of Missouri German Shepherd Rescue
We live in the land of lots of snow and at about 9000 ft. above sea level. My nine-year old Brittany, Jasmine, loves her coat. We go out on some very cold days. Jasmine stays warm and looks very regal.
Bob, Summit County
My Mountain Mutt Dog Coat has been perfect for my Westie, McDuff.  He loves playing in the snow and walking in the rain, and without his coat he'd take hours to warm up.  He likes wearing it and it looks great on him! I feel proud when I am walking him that he looks handsome and is protected from the elements.   
Judy M.  , Lakewood
Our Happy Clients
Do you have a photo you'd like to share? Click here to submit your photo to our gallery.